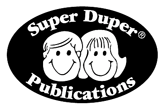 Super Duper Publications is a company offering a huge variety of learning tools and materials for kids.  In addition to their vast array of educational apps, board games, cards, and items targeted for children with special needs, they have some terrific computer software as well.  
I had the opportunity to try the
HearBuilder Following Directions Software Program
with my family over the past few weeks.  It includes a CD-Rom (for Windows or Mac) and an extensive booklet inside the case with instructions on how to set up and play the game.  It is for grades Pre-K through 3rd grade, or any young student that has difficulty following directions.  It retails for $69.95 for the Home Edition. In the game, students follow increasingly difficult directions while playing in a fun, colorful learning environment.  They will demonstrate knowledge of 40 basic concepts in five areas: Basic Directions, Sequential Directions, Quantitative & Spatial Directions, Temporal Directions, and Conditional Directions.  (On the actual game itself, they do have each type of skill separated so they can work on them at different times.  They simply choose a different door in the main game to choose a different skill.)
My family was able to enjoy this game, and my children begged to play it.  Even my 2 1/2 year old enjoyed playing the game on the beginner level.  When playing the game, you can set up different students and it saves their games independently of each other so that they don't lose their personal progress when they stop and return.  When getting it started, you can choose to put your child in Beginner, Advanced, or Expert levels, or you can set it so that they work all levels (from most easy to most challenging throughout the program).
For my 7 year old daughter, we let her play all levels, so she began at the easiest questions and quickly moved on to harder problems as she mastered the beginner questions.  To further show a child their progress, there are little meters above each skill's door and its dial points to green, purple, or blue which indicates which skill level they are currently working on.  In addition to that, children can Check Progress and visually see how far into each skill they have already worked.  That was a huge motivation for my daughter!
I put my 5 year old on the Beginner path.  He loved it because he was able to see progress and feel like he was mastering the content quickly.  When he is finished, I'll likely send him on to work on the advanced level.
 This is also where I placed my 2 1/2 year old.  He can listen to directions quite well on this game.  I only wish that translated to listening to me!  Maybe when he is not in his "terrible twos" anymore. 
Students are given a sequence of directions to follow in this game.  All 3 of my big kids loved this one!
I really do love this software and find it to be a great value.  I can use it with all of my children and would be able to gift it to someone else when we are finished with it.  Not only that, but the graphics are vibrant, it loads and switches screens very smoothly and seamlessly, and the verbal instructions are clear and easy to understand.  I loved that it got my kids still and quiet to actually listen to, and follow, directions.  I am very hopeful that this strengthened skill will translate into our homeschool classroom once we begin more rigorous studies next month.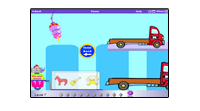 My son's favorite game on the software.
Super Duper Publications is offering some great coupon codes to readers of Schoolhouse Review Crew blogs!  I encourage you to scoop up the great savings.
Jeepers Peepers Glasses GameCoupon Code: BLGJP30Save 30% Expires 8/31/12 HearBuilder Following Directions Home EditionCoupon Code: BLGFD30Save 30% Expires 8/31/12 HearBuilder Auditory Memory Home EditionCoupon Code: BLGAM30Save 30% Expires 8/31/12
Want more information about this and other Super Duper Publications products? Check out the
Schoolhouse Review Crew Blog
.

*As a member of the Schoolhouse Review Crew, I was given a complimentary copy of the software for the purpose of this review. As always, all opinions offered in this review are mine alone.