My kids are always eager to learn about the past, and enjoy history.  While I definitely think it is important, I have found so many homeschool history either programs difficult to use or way too dry for my 1st and 3rd grader.  Now I know about a new option that is great for their age group.  Over the past several weeks, we had the chance to use and review the Digital Heroes & Heroines of the Past: American History Curriculum by Golden Prairie Press.

Homeschool History from Golden Prairie Press
This is an elementary American history curriculum with a Christian worldview by Amy Puetz, and is for 1st-6th grades as a standalone program.  It could also be used by older students as a supplement or as a full program if done in its entirety, as a lot of the learning goes beyond just the text and involved more hands-on discovery.  Tagalong little siblings will also find value in this program, just as my 4 year old son did!  Of course, he was mostly interested when we got to play and create things, but that is a memorable way to teach history to any child!
The entire program is available digitally, like what I got, for $98.99.  It includes ebooks of Part 1 and Part 2 of Heroes and Heroines of the Past.  It also comes with Additional Materials Downloads (which contains many timelines, coloring pages, and more), the Historical Skits ebook (check out this sample of Historical Skits), a digital download of the Sing Some History CD, and a digital copy of the Listen to Some U.S. History CD.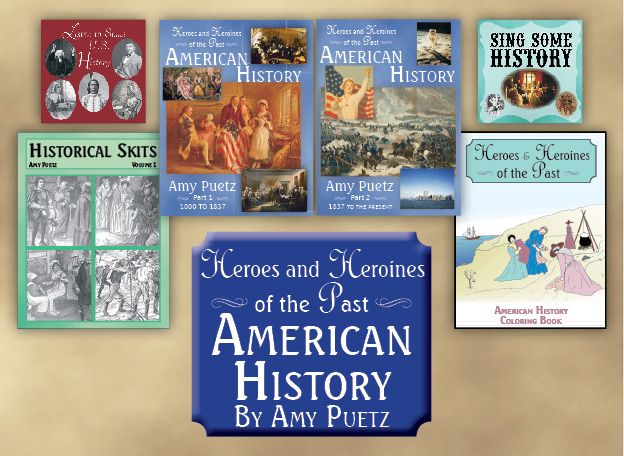 How We Used It
For history, we usually tackle the subject about three times a week.  That's exactly what we did using the Heroes and Heroines of the Past homeschool history curriculum.  This put us behind the actual schedule set up for the program, which you can view on the American History Outline that correlates to the curriculum.
As you can see, it is set up to be easily used 5 times a week to complete one section a week, for a total of 30 weeks.  With the way we are doing it, we'll be finished in 50 weeks, which makes this a great year-round curriculum option at that pace for folks that homeschool during most of the year.  Of course, homeschooling is flexible!  Some weeks we will probably want to double up on lessons, particularly if we're going light on other subjects.  This will probably happen some starting next month when it's summertime and we're doing a lighter load of math and language arts.
The beauty of this curriculum is that it's meant to help students explore history in a more tangible manner.  For example, starting with the very first lesson, the kids were able to make a teepee and a canoe.  This gave them a chance to imagine life back in the time prior to the "discovery" of America by European settlers, and to really think about what life was like.
A new Bible verse is also introduced every 5 lessons.  There are also coloring pages available for each lesson, which is great for the kids to work on while Mom is reading the text part of the lesson out loud.  The lessons could certainly be read independently by older elementary students, but since we mix my kids together to do history, we've found it is just easier for me to read it to everyone.
There are also skits for most of the lessons.  This was a little difficult for my kids to follow, particularly since my 1st grader isn't a very fluent reader quite yet, but my daughter (3rd grade) really loved them.  She's very much into theatre and drama, so she saw this as a fun way to "see" history.  We're avid audio book listeners, so she got to practice her best audio book voice when we did the skits together.  It was memorable each time we did one for sure!  This is a neat way to make history "stick".
There is also a strong art appreciation feel to this curriculum.  Every few lessons, the students will get a chance to observe and analyze art from that time period or about that time period.  My kids don't have a ton of exposure to art, so this was a good change of pace for them.  They're used to much more abstract, free flowing kind of art.  For them, being able to see that art can truly tell a story or even historically document events and people was a good lesson.
The MP3s were a great way for kids to get history in another way, as well.  They enjoyed listening along after I was done with the reading for that day.  My daughter liked "All the Pretty Little Horses" and thought it was really interesting that the song came from long ago.  It was neat to see the context of the song, as well as the time period.
We also got to make some drinks and food to celebrate and experience life in the past.  My kids are all about food, so to have these activities as part of school?  They loved it.
For those that enjoy keeping track of concrete records, there are plenty of questions for the kids to answer relating to the lessons, as well as some writing assignments along the way.
This homeschool history program provides a good mix of assignments and activities for all types of learners so that they can enjoy history!  By the way, there's no pressure to complete EVERY single activity for each lesson.  While doing all of them will provide the most rounded history education (and takes less than an hour usually), picking and choosing activities will work as well!  I felt like the reading of the lesson was the only truly mandatory thing, and everything else was a bonus.  With activities that were so fun, though, we did almost everything!
Final Thoughts
If you've been looking for a good elementary American history curriculum for your students, I highly recommend checking this out.  I love that it's available as a digital download, but you could always buy the printed version if you prefer.  I liked the convenience of saving the curriculum to my Google Drive account for easy access, both at home and on the go from my cell phone.
Also, the digital version makes it easy to save the curriculum for future kids (if you have a larger family like I do and can't teach them all at once), because you can just open it back up as needed, print out coloring sheets, access the audio files, and so on, whenever you need to – forever!  This makes the program an exceptional value for anyone, but especially for large families that don't want to have to continuously buy consumables.
The lessons are well thought out, thorough, and make sense to kids and parents!  It teaches to all learning styles, and it is easy to combine students of various ages together to learn at the same time.   My kids are actually learning and retaining history!  To me, that's a win for all of us.