My 4 year old son has been really eager to learn to read and write like his older siblings, so I've been on the look out for a gentle curriculum for him.  We were able to review a program from Logic of English called Foundations, Level A, including the Reusable Resources.  With this program, we've been able to quickly help him gain confidence in his pre-reading and very beginning reading skills.  We've also worked on his penmanship.  The handwriting portion of this really impressed me, as I wasn't sure a little boy so young would be ready for writing, but he was and loved it!

The Program
Foundations, Level A is for students around ages 4-7, but I could see a really eager 3 year old loving it.  Older students that need a good foundation and remedial help, or students with special needs could certainly use this program past age 7.  Foundations has a Level A, Level B, and Level C.  By starting at Level A, it gives students a good grasp of what the program is like and gently introduces them to letter sounds, high frequency words, writing the lowercase alphabet, spelling, and how to blend and segment words (this is done orally, so no worries about more difficult spelling).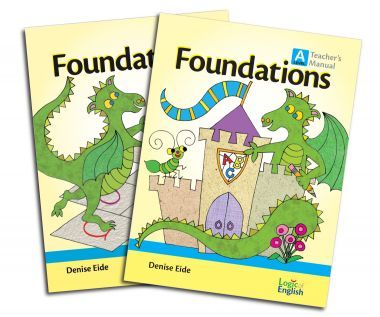 The Basics
To teach Foundations, Level A, you will need both the Teacher's Manual ($38) and the Student Workbook (choose either manuscript like we did, or cursive, $18), as well as the book Doodling Dragons: An ABC Book of Sounds ($15).
The teacher's manual and student workbook are available as PDF downloads if you'd prefer them that way.  I enjoyed the ease of having the hard copies.  I could just step away from the computer screen and pull out the printed books to have some one on one time with my 4 year old!  He loved it, too, as we do a lot of work on the computer already.  He was happy to see me reading from the Teacher's Manual and eager to see what was coming next! See how this Teacher's Manual is unique on the Logic of English site.
The Doodling Dragons book is colorful and comprehensive.  My older kids (7 and 9) even enjoyed when I would read it, which I did about once a week during the review period.  It lays out ALL of the sounds that each letter makes.  This actually helped my older son's reading because he could remember some of the pictures and words from this book.  Then when he was faced with some tough reading (like circus or circumvent), he was able to play back in his mind what sounds the C could make.

In all, the Logic of English Foundations, Level A program includes 48 lessons.  Forty of them are instructional where your student will learn and practice new skills.  Eight of them are assessments and reviews.
The instructional lessons are brief and colorful, giving your child a great shot at being able to comprehend the information and to stay engaged.  My son loved that we did a good portion of the assignments orally.  For example, we learned about words that are voiced and unvoiced.  This became a game for him that he would actually do while we were out.
We would be driving in the van, and we'd by talking.  Suddenly, he would proclaim, "Mom, that letter is VOICED!"  I couldn't help but smile each time this happened.  While the lessons are short, they are impactful!
Each lesson was divided into parts, or sections.  Earlier lessons included things like Phonemic Awareness, specific phonograms to practice, and handwriting.  These lessons never took us longer than about 15-20 minutes to complete unless my son went crazy with wanting to do tons of handwriting practice that day!  (See more about the student workbook here.)
Later lessons began including Words, such as a spelling list and vocabulary words, as well as Reading.  As we found out in Lesson 24, once your child knows the sounds of all of the phonograms, they'll be able to read any words using phonics!  This was a game changer for my son, as he was able to see just how his bigger siblings were doing this reading thing.  Boy, was he beaming with pride when he first started reading!  Reading the word "dad" was pretty darn special!
Also included in this curriculum are plenty of games and readers to help reinforce the lessons.  My son enjoyed Phonogram Bingo in lesson 19.  There are so many different types of games included as well, including other favorites like tic-tac-toe and Read and Do.
My son's interest was held for every lesson!  Typical lessons were only about 2-3 pages in his workbook, as well as some fun practice using the reusable resources.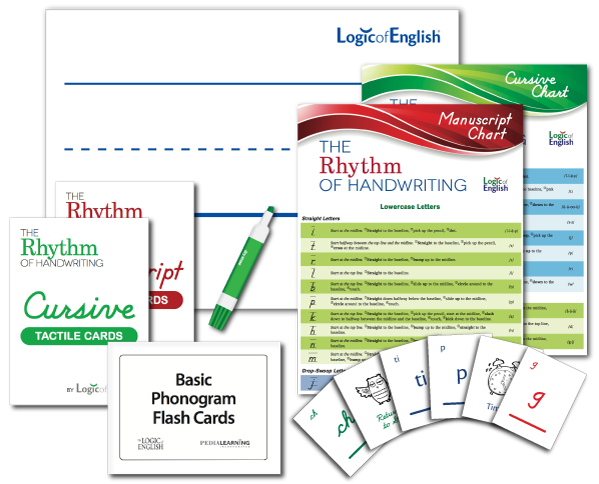 The Extras
We did receive this Reusable Resources kit to use for our lessons.  Pieces in this set range from $9 – $28 depending on what you want to use.  We mainly used the Student Whiteboard, half size ($9) and the Phonogram Game Cards ($10).  We did also use other items, like the Basic Phonogram Flashcards ($18), Rhythm of Handwriting Tactile Cards (manuscript, $28), and I referred to the Rhythm of Handwriting Quick Reference (manuscript, $10).
These products are mentioned as resources to use in the lessons in the Teacher's Manual.  We mostly used our whiteboard for handwriting practice as it is huge and made writing whatever was assigned very simple and kind of dramatic for my son!  The various cards were used for reference purposes, as well as for games and activities.  I liked to use the reference guide when I was trying to remember what the names were of all of the different strokes my son was initially learning at the beginning of the program.
By using these supplies, as well as a few other optional fun supplies as indicated in specific lessons, we were able to actually DO the lessons in a memorable way.  For example, in Lesson 22, my son got to do a Phonogram Race.  Using the whiteboard, timer, and some blacks, he would write the phonograms I dictated to him.  The goal was to see how many he would do in a minute.  Then he got to build a block tower to represent all of the phonograms he got right!  Then it was time to do it again to try and beat his score.
This turned a mundane writing assignment into a really fun challenge for a hyper 4 year old.  Not only that, but he got to physically see his accomplishment (in block form).  That was exciting for him!
Final Thoughts
Overall, we loved this program.  Logic of English never disappoints!  We're almost done with Foundations, Level A and I'm highly considering purchasing the next level.  Not only were the lessons TOTALLY age appropriate for the attention level of my son, but they worked!  He's got so much confidence and begs me to do "book school".  I love the mix of writing, oral work, and hands-on play.  Obviously he does, too!
This program is a winner for my active 4 year old that was eager to read.  It is a complete language arts program for a pre-k or early kindergarten student and moves at a pace that is both slow enough to follow easily, and quick enough to show marked progress in a short amount of time.   By using it 4-6 times a week, my guy has shown incredible amounts of improvement and his having a blast doing it!