Those of you that have followed my blog for a while probably recall what a challenge teaching science is for me.  My kids love it, but I dread the gathering of supplies and the safe implementation of experiments around little ones.  I recently got review copies of two Go Science DVDs from Library and Educational Services and the videos have been a game changer.
I chose to try out Volume 4: Motion, Friction, Electricity, Light and Volume 7: Engineering, Design, Flight because I perceive those types of experiments as the most difficult to pull off on my own here at home.  As much as I love watching my kids learn, I can get so overwhelmed with science instruction!
Go Science DVDs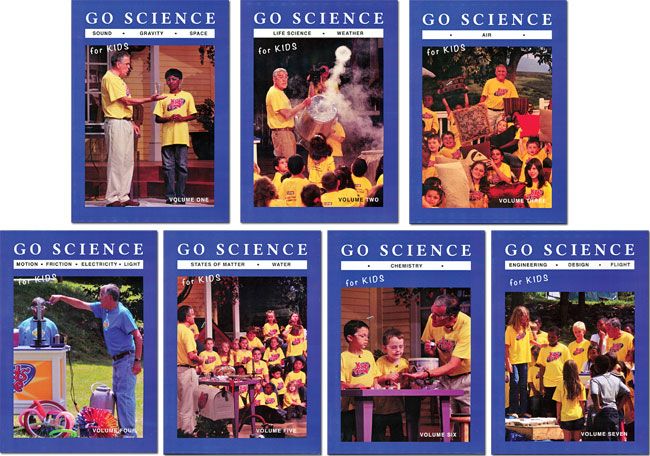 Go Science is a 7 volume DVD series for kids ages 4-12 years old that is chock-full of live demonstrations of experiments.  The cool part is that actual kids get involved with these real experiments under the supervision of Ben Roy.  Ben Roy has a fun, light-hearted mannerism and is great with kids, but also has a passion for science.  Sometimes during, but always after, a lesson, Ben ties the experiment and lesson into some way to glorify or honor God.
The DVDs retail for $14.95 each, but are available on the Library and Educational Services website for just $8.97 each.  The entire Go Science Series 2 Set of 7 DVDs retails for $99.70 but can be purchased on the site for just $59.82, which saves you even more if you're considering buying all of the DVDs in the collection.
Each experiment is brief, lasting somewhere between 3 and 10 minutes.  He interacts a lot with his audience full of kids and helpers before, during, and after each experiment.  My kids could relate to the children on the DVD, so it kept their attention better than if it had just been Ben Roy standing in front of a camera.  He asked the kids questions and got their input, which got the gears going in the minds of my own children as well.  They felt comfortable asking questions and even guessing outcomes incorrectly.  This is a low pressure approach to science for kids.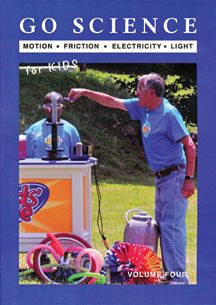 Volume 4: 
Motion, Friction, Electricity, Light was the favorite of the two Go Science DVDs that we reviewed.  This one contains 11 experiments, and on the menu screen, it divides the selections between motion, friction, electricity, and light.  This makes it easy to make a selection based on the information you're hoping to teach that day.  
We were able to tie this in to a bit of our current science program as we were already discussing motion and friction.  This gave us a great way to reinforce that information without having to go out and buy a bunch of costly science material odds and ends.
My kids loved the High Bounce Balls (motion) experiment and actually ended up trying to copy it several times over the days following seeing the science demonstration on the DVD.  The also really liked the Nail Magnet (electricity) experiment.  They asked me if we could recreate that one at home, and I had to regretfully decline.  They really weren't disappointed, but they did ask to watch it again!
In Go Science 
Volume 7: Engineering, Design, Flight, the experiment video clips are divided between Engineering/Design and Flight.  I was beyond excited when I saw that the Film Canister Rocket experiment was on here (under flight), because our current science curriculum calls for doing this experiment, and I have been unable to locate good old fashioned film canisters short of buying some film.  Rocket Balloons was another one that we were doing in our science program.  
Not only was this DVD fun for the kids to watch, but it allowed us all to witness the science behind the lessons we were already learning about!  Like I said, these DVDs are a game changer.  It prompted me to go look at all of the other volumes available to see which experiments were on each DVD.  I honestly think I may by the rest of the set to have it handy.
While the experiments are classic, they are also very interesting and in such a friendly format that my kids will sit and watch it happily.  They ask questions.  They try things out on their own after the fact to recreate what they've seen.  They're enjoying science.
Two Thumbs Up
If you've got kids in the age range of 4-12 and they love science, I highly recommend this series.  My 4 year old was totally engaged the whole time, and my 7 and 9 year olds were able to apply what they were seeing to the lessons we were learning in our current science program.  This was connecting the dots for them in a way that just reading a textbook couldn't do.  Not only that, but I didn't have to try and find a ton of science experiment supply odds and ends or figure out how to conduct the experiments safely around a very curious and destructive 2 year old.
I recommend this DVD series to anyone looking for a great science supplement.  Even if it doesn't correlate to what you're currently learning anyway, the segments are short, the kids will enjoy it, and you can bet that they're learning something!