As a homeschool mom, I often find myself feeling a bit overwhelmed.  Time management has never been my strong suit, so being able to review the book Flourish: Balance for Homeschool Moms by Mary Jo Tate was appealing to me.  Available from Apologia Educational Ministries, who is known for their excellent curriculum and educational resources, I knew that I'd probably be blessed by reading the book.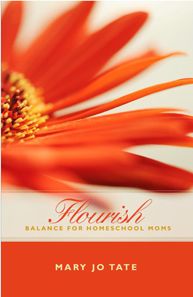 The book retails for $15 and is a homeschool mom resource.  That means that this book is actually for adults, and I wouldn't recommend it to kids for time management.  It is extremely specific to cater to a mom with mom responsibilities.
What Topics Does Flourish Cover?
The Flourish Table of Contents gives you an idea of what the book covers.  The chapters are fairly quick to read through, but some of the exercises take longer than others.  The book is soft cover and has 16 chapters covering 288 pages.  It includes an appendix in the back of recommended resources and another with various questionnaires and planning forms that correlate with the chapters in the book.  It does come from a Christian perspective.
Each chapter contains the information about the specific topic, of course.  It also contains quotes from real homeschool moms about how they applied the information of that chapter into their lives.  There are quotes sprinkled throughout the chapters as well.  Finally, the end of each chapter has a checklist of things for the reader to do to really soak in what was discussed and apply it to their lives.  Some are easy brainstorming tasks, others are very specific time written tasks, and others encourage the reader to simply be more aware of certain things now that the chapter has challenged them to think about it more.
The chapters introduce you to Flourish, helps you to realize that it is possible to find balance, changes your mind set and asks you to think critically about the tasks in your life, uses a time log of your actual days to help you determine how to use that time more wisely and in line with your goals, and even helps you set those goals in three main categories.  Mary Jo Tate then breaks it down into 7 planning tools, including looking at the big picture all the way down to the daily tasks that must be completed.  She discusses boundaries and how to shrug off the perception of others when it comes to staying at home with your family, helps the reader to adjust their attitude so they can take action, and even gives practical tips that moms often ignore regarding taking care of themselves!
The second half of the book discusses training your kids to be responsible and independent, how to make memories so that you all enjoy and fondly remember this time together as a family, how to manage your home (including paperwork!), and mentions how learning is a life long process that children and adults are constantly doing alongside each other!  There's a chapter about being a single mom and another about having a home business.  Finally, Mary Jo Tate talks about being decisive and really knowing if something isn't working and what to do in that scenario.
How I Started to Flourish
I chose to read this a little bit at a time each night during my (rare) quiet time.  About 3-4 times a week, I would read a chapter or two and complete or start the exercises suggested at the end of the chapter.  I kept my answers in a spiral notebook so I could go back and look at them later if I wanted to.
For me, this book is a great fit because I'm always juggling with my time.  Not only that, but I really do carry around the guilt that I am not able to get everything done, or that I'm not able to put my full effort into things.
Flourish has helped me to streamline my priorities.  I've been able to say NO more without feeling guilty.  I've been able to dedicate my time to things that I now realize are the most important to me, and delegate other tasks to other people.  In fact, I've been letting some things go, like feeling the pressure to prepare every meal from scratch, even though it costs me more in money sometimes.  I'm releasing the guilt that I used to feel over that decision and realizing more that having food on the table is the main important goal, and that it's not a competition about how Suzy Homemaker I can be.  No one that matters is judging me for choosing to feed my family in a way that uses shortcuts like frozen vegetables or premade sauces.  In fact, choosing to feed them mini corndogs is okay, too, because I'm still accomplishing the bigger picture goal.
The book has been teaching me how to strive for something without depriving myself.  Before, I would try to accomplish everything at once and get overwhelmed.  I had to do lists everywhere and nothing ever got checked off.  At least it seemed that way, because I was adding in way more list items than I was able to complete.
Now that I am better able to discern between what will help me reach my goals and what will just be a time suck, it's easier to feel more accomplished each day.  I'm also able to check off more things from the list because it is more specific and focused, which in turn helps me to actually be more focused and get things done for once!
The Best Part of Flourish
To me, the best part of this book was that it was written by a single, work from home, homeschool mom.  She knows what it's like.  She's living it right now.  She knows the struggles and the disappointments and the guilt and the anxiety that go along with the territory.  Not only that, but she runs her own business and understands that there is a lot of pressure to "do it all".
Mary Jo Tate really breaks it all down and shows what has worked for her and how other moms can achieve balance as well.  She doesn't give a one size fits all approach, but rather gives the tools that will get the reader to where she wants and needs to be to truly FLOURISH in life.
This book has helped me to take a more critical look at how I'm living my life.  It's given me new ways to handle the stress and even cut a lot of it out.  I've been able to learn new ways of managing my time so that I can be more productive without sacrificing time with my family.  I've also been able to let go of some expectations that I'd placed on myself that no one else really cared about but me.  What a relief!
I recommend this book for any homeschooling mom, especially if you work from home.  Even if you don't, the chapters that focus on that could be applied to your homeschool as it is sort of its own business!

More from Apologia
Interested in Apologia science?  Read what we thought about Exploring Creation with Zoology 2: Swimming Creatures of the Fifth Day.  We also reviewed Apologia Exploring Creation with Chemistry and Physics.  Finally, a book my whole family was able to enjoy together was What On Earth Can I Do?, which became a great family Bible study and covered multiple subjects as well.