With Christmas quickly approaching, I've been wondering how I was going to talk wih the kids about the reason for the season this year, Jesus.  I was able to review the Bible study Birth of Jesus: Multi-Level, by Grapevine Studies, with my family over the past few weeks, and I'm so glad we've had the opportunity to use it!  I think my kids have a much better understanding of why we celebrate Christmas now.

We received an ebook copy of the multi-level student book, teacher book, and traceable book of the Bible study.
 It is designed to be a 5 week (or 24 mini-lesson) Bible study for students.  We used it to do mini-lessons a few times a week.
The regular multi-level student book is for ages 7+, while the traceable student book is more for the 3-6 crowd.
Traceable?  Yes, you read that right!  You see, these Bible studies allow students to draw stick figures to retell the key Bible story of Jesus and his birth!  For younger students, they have the traceable pages since they may not be coordinated enough to completely do it themselves.  By tracing, they will end up with an end result similar to older siblings', so they can feel proud of the work they have done!  See a sample lesson.
For older students using the multi-level book, they can draw theirs more elaborately if they wish, and can use their own creativity to show their lesson through their stick figure drawings. See a sample lesson of what their book looks like.  They practice memory verses, and there are built in review lessons as well.
If you are planning on purchasing this, you will definitely need the teacher book.  I know in some Bible study programs, it is optional, but for this one, it provides supply lists, scheduling ideas, teacher narrative (scripted lessons), lesson pages, and an answer key to all of the questions and prompts in the study. See a sample of the teacher book.
One thing I really liked about the study was the use of a timeline.  It has occurred to me that my dislike for history throughout my elementary years and beyond was due to a complete lack of understanding of how one event was connected through another over time.  I don't remember ever using a timeline in my studies, leading to a gross lack of knowing when things happened in relation to another historical event.
This study takes care of that.  Through the timeline, your students will get to draw what happened in order of events.  This made is easier for my students (ages 3, 6, 8, and 10) to understand when and how things happened.
For example, Joseph moved his family to Nazareth after he had fled to Egypt.  Why would he do that when Herod was trying to kill Jesus?  Oh, if you look on the timeline, you see that he didn't move his family until Herod was dead and an angel told Joseph.
Another thing I liked was that it included maps and incorporated the use of an atlas.  It was helpful for my students to look at the locations of the places they had just learned about.  We actually used this as stepping off point to get online and look up pictures of the places and what people thought they looked like then, as well as what they look like today.  That was an interesting way to use our lessons to further our studies to include geography and history even more.
We enjoyed using this Bible study.  It was unlike anything we've ever used before.  Instead of me reading the Bible story and my kids coloring some premade coloring page, this allowed them to draw something that would help remind them of the story.  Plus, with it being stick figures, my 6 year old didn't have to worry about writing his answers perfectly because I had him do the stick figures from the older child book so he could freehand them, but answer the questions orally so he didn't have to write anything down.  It was a great way to get him involved without making it a chore!
For my 8 year old, he was able to draw things without having to worry about being perfect or artsy like his 10 year old sister.  The stick figures made it fun and low pressure for all of them.
My 3 year old did the traceable pages and felt so proud of himself for doing things just like his big siblings.  I liked that he was able to be involved with the Bible study, too, and the stick figure drawings made him feel like it was right at his level and made for kids like him.  That's important when trying to get him to sit down and do anything with us!
I really want to look into purchasing some of their other studies, because this one was so much fun for us.  They have several to choose from, as you can see here: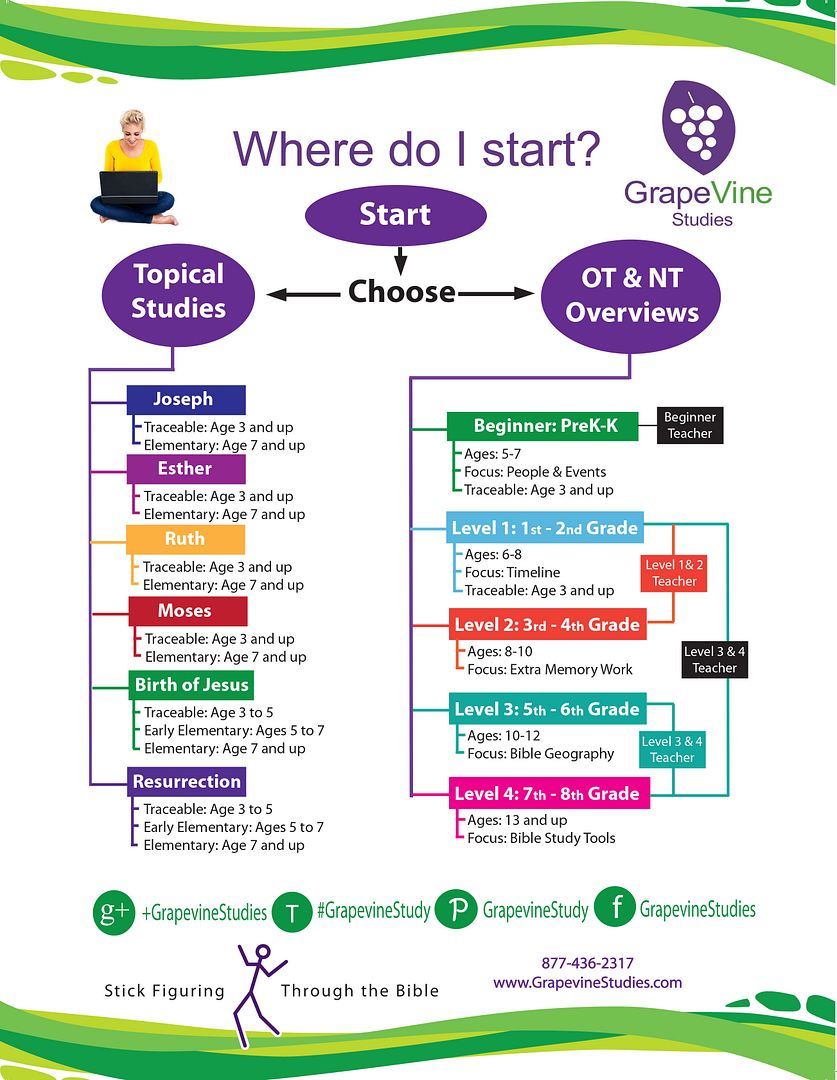 Find out more about how other families used this Bible study, or to find out about a neat Old Testament study by Grapevine, click the banner below: