Online learning is a favorite around here, so I'm always looking for programs that can be done on the computer for my kids. Essential Skills Advantage let us try out the Complete Home Learning Suite with 2 of my children.  This gave us a full year subscription for each student to the entire ESA program.
Essential Skills Advantage
ESA is a self-paced online curriculum for students grades K-6.   You can get it as a monthly subscription, or you can go ahead and purchase for the entire year for a discounted rate.
It covers a whole host of subjects and topics, including reading, geography, spelling, language and grammar, science, and math.  Subjects are broken down into programs which consist of several units.
The learning activities are fun, colorful, and engaging.  The lessons work well for auditory, tactile, and visual learners through the various tasks students complete to master each concept.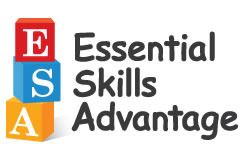 I used the Essential Skills Advantage program with my kindergarten student and my 3rd grader.  We've actually used (and loved)
Essential Skills Advantage
before, so I also have an account for my 5th grader.
Fun and Engaging Activities that Really Teach
My 6 year old couldn't wait to start his math each day during this review period. He is too advanced for many of the Kindergarten and 1st grade programs that we have tried to use with him this year, and not quite advanced enough to move him up to 2nd grade programs we've looked into.  Usually, his reading skills and comprehension seem to get in the way of him completing the higher level courses, even though his math knowledge and abilities are definitely in that range.
Since I wasn't sure where exactly to place him, we started him out in the Complete Math K-1 program.  He loved doing the colorful and fun activities, and quickly completed 100% of the program with an average score of 98%!  It became clearly quickly that I needed to move him to the Complete Math 2 (grade 2) program.
I love the flexibility within ESA.  You are able to have your student complete things at their own pace, and at whatever level you feel best.  It is easy to select a higher or lower level at any time to cater to your individual child's needs.  You're not locked in to one particular grade level and can easily work on different levels for different subjects or even jump around to different levels for the same subject.
My son also loved doing some of the Complete Reading K program and Super Phonics K.  He's enjoyed doing some word search activities on there, and sometimes wears headphones to complete his work so he won't get distracted by his loud siblings.  I admire his dedication and am thrilled that he looks forward to working on ESA every day.
He has also tried out the science units as well.  He has dabbled in the Physical Science and Life Science programs.  I'm sure he will get to the other one, Earth and Space Science, soon enough.  We haven't covered a ton using a formal science curriculum this year, so I am happy to see him interested in trying out the many learning tools and subjects available to him here on ESA.
Comprehensive Reporting and Teacher Tools
I was also able to review the program with my 3rd grader.  He has a fairly heavy workload of math and language arts already, so I had him work on some map and globe work, which is available for students in the 3rd-6th grade level.  He worked on some other skills, but I wanted to highlight this since a lot of people I talk to only think of ESA for math and language arts.  I promise, there is SO much more to explore!
I love that I am able to log in to the main parent account and look at exactly what my child has been working on.  From the graph above, you can see that Michael worked on the Longitude unit for 14 minutes and 22 seconds.  He has completed 60% of the unit (as you can see in green) and his average grade on the assignments is a 93 (as you can see in the orange).
I clicked on the icon below the bar graph to see a detailed summary of all of the activities that he completed for that unit.  As you can see, it is easy to see how many attempts were made, how much time was spent on each activity/subject, and how many times he attempted the activity.
This reporting is one of my personal favorite parts of the program, because it allows me to assign my students to work on the program, and I can see, minute by minute, what they have been working on and how they've been doing.  You can even look further and click on the attempts to see how they did on each attempt.  For example, I clicked where it says "2 attempts" under Enter the Longitude and saw that my son got an 83 on his first attempt, and a 100 on his second attempt.  It keeps your last attempt grade on there as your "final" grade, so that is why it shows it as 100% for that activity for this unit.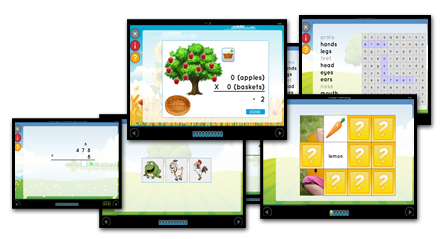 Final Thoughts on Essential Skills Advantage
We like using this program and will continue to do so.  For my kindergarten-aged son, I plan on using this as main his math curriculum and science program for the time being.  For my 3rd grader, I will continue to use it with him as a supplement.
The lessons are short enough that they keep their attention.  Students are also rewarded with stars when they do well and complete lessons, so it is motivating to my boys.  There is also a little status bar that shows how much has been completed, and they like having that to reassure them that they are working well through the lessons.
I wish this program went into the junior and senior high levels, because the format is excellent!  The colorful images and the vocal, as well as text, commands and questions make it easy to understand what should be done for each activity.  It is no problem to switch between students and also subjects and grade levels at any time.
It is very easy to use.  It keeps my kids engaged.  They are learning and enjoying the process of learning.  I can keep track of their progress, and so can they.  Students are able to use the program independently.
Overall, it's a huge WIN in my book and I'm glad to have had the chance to use it with my family again!
You can see how other families used this program by clicking on the banner below: