We were recently given a review subscription to a new program from Talking Fingers Inc. called Talking Shapes: A Supplemental Curriculum for Early Literacy.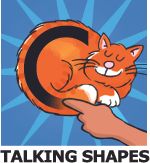 Talking Shapes is a game that we played on our computer in a browser.  It is designed to teach children, roughly ages 3-6, about the alphabet and phonograms.
The approach uses fun videos, lots of colors, reading out loud to the kids, a story book format, and interactive activities to reinforce the lessons.
Another cool thing is that it teaches kids the shapes of each of the letters.  They're supposed to trace the letters throughout various points of the activities.  We used our regular computer with mouse, so my son did have a bit of a hard time holding the mouse button down and moving it around to be just right.
Honestly, we found that the program was fairly generous with its margin of error.  I was grateful for that since my little guy just loves computer time and would have been sad if he wasn't able to get credit for something he thought he was working pretty hard on.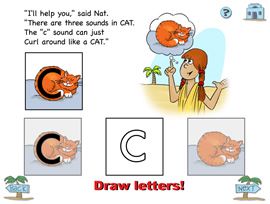 I thought this program had a lot of potential. My 4 year old is always excited about getting to do "his" school, so he is the one I wanted to use this with.
Talking Shapes is supposed to take students through 7 stories about sisters who supposedly came up with the alphabet.  The lessons and exercises are meant to teach kids the 40 phonograms and get them on the pathway to being a great reader.  The activities also equip them with skills to be able to write as well.
Neuropsychologist Dr. Jeannine Herron developed the system.  She wanted to make sure that children had both sides of their brain stimulated because struggling and skilled readers activate different sides when reading.  By having students speak and hear words and then sounding them out, kids are able to build and activate pathways in the left side of their brain.
From what I saw, I think this program is fantastic.  I do feel like my son was a little too young for it, though I feel like it might just be a maturity thing.  He had a hard time sitting through the lesson parts he saw to even get to the activities, though I did convince him to hang out and do what he could.
Unfortunately, we ran into many technical issues and were unable to really get a good look at the program. When we would go to use it, we were unable to get it to load.  When we were able to get it to load, we wouldn't get very far into the program before it would give us errors in the middle of playing some of the games.
Once the bugs get worked out, I'm sure it will be a great learning tool for my son. He really needs to learn and be able to reinforce the alphabet and the phonics rules. He loves doing programs online, and Talking Shapes is very colorful and interactive. I know he would thrive with this program.
My 6 year old looked it over and thought it was pretty cool, too.  I definitely think that kids in the 4-6 age range can get a lot out of it if they're ready and able to learn in this way.
See what other members of the Crew thought of the program by clicking on the banner below: