Language Arts and math are the two subjects that we focus on the most in our homeschool.  I had never heard of Eclectic Foundations before, but we were chosen to review Eclectic Foundations Language Arts Level B with my 1st grader, and I was interested to see how it would work out.
Eclectic Foundations is available as a digital download (in PDF form), or printed out and bound for you as a physical copy.  Level B is suggested for grades 1-2 based on the fact that it uses McGuffey's First Eclectic Reader, Revised Edition, which was shown by a Lexile Analyzer to be at about that reading level.  If you're curious, you can see which level you should start with for proper placement.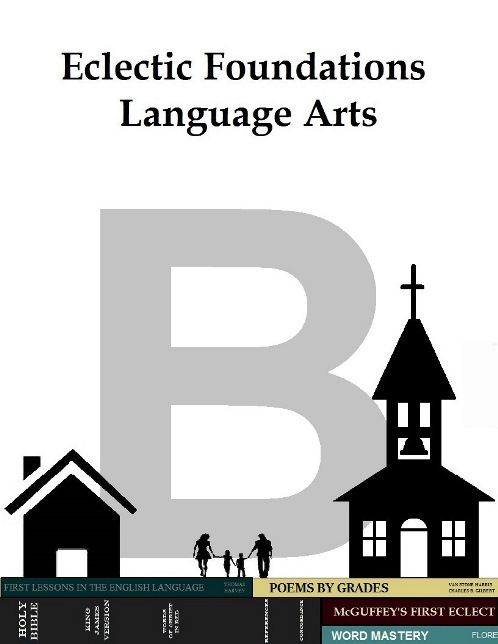 This language arts program includes phonics, grammar instruction, poetry, reading and inferences using the corresponding McGuffey reader, and handwriting.  My son was surprised to see that the handwriting practice in his lessons is in cursive.  As a 1st grader, he has never been introduced to cursive before, and he still isn't sure what he thinks of it. 🙂  In further lessons, copywork is done as well.
We received the physical copies of the curriculum.  That means that we received a print copy of the teacher's guide, which walks you through exactly what you should do and say for each lesson and is 149 pages long.  This is reusable, so if you have multiple children that will eventually use the program, you would only need a single copy.  We also received the 287 page student guide, which is a consumable workbook.  The student guide includes all of the poetry that will be used, as well as word lists, worksheets, and handwriting practice.  We also received a small, spiral-bound copy of the laminated practice pages.  Students use these during their lessons with dry erase markers, so it is reusable.  Finally, we got a printed pack of word cards, which comes printed on card stock to be cut and used during the lessons as noted on the bottom of each individual card.  These are used for learning the parts of speech by using the words from McGuffey's.
In addition to those materials, we also needed a copy of McGuffey's First Eclectic Reader, Revised Edition.  This is available for free online, or you can get a print copy for portability and convenience.
This entire set is also available for download at a cost of just $30.  This would allow you to print the materials as needed, and save it for future kids to use as well.  I was so impressed with Level B, that I have actually purchased and pre-printed all of the materials for Level A for my 4 year old.  He's starting kindergarten in the fall, and this curriculum is gentle, but to the point.  It's something I am really loving, so I wanted to be sure I had it ready to go for my next kiddo!
The program is suggested to be used 4 times a week, but I find that it is simple end short enough to do daily.  So far, we have not spent more than 20 minutes on the program on any given day.  The days where we cut out and color the word cards seem to take a little bit longer because my son likes to drag that on for a bit, but the meat of the lesson gets straight to the point.  There is no busywork.
My son is 7, and he is enjoying using this curriculum.  He feels like it is easy, but I have previewed future lessons, and I know it is going to continue to get more challenging.  The beauty of it is that the lessons stay short and concise, and they gradually get more difficult.  He's already being challenged by the cursive handwriting practice.  He's finally able to recite to me what a noun is and a verb it.  He's been able to give me examples of adjectives and adverbs.  He goes above and beyond when I ask him to fill out the practice sheets by adding extra examples on his own.  To me, that's a sign that this program is really working and that he likes it!  I've met no resistance, so I'll call that a win!
If you think you might be interested in the program, feel free to check out the first four weeks free.  This includes a printable version of all of the teacher and student sheets, as well as the word cards.  You could easily give this a real try with your student to see if it would be a good fit.  You can also look at the full scope and sequence to see what is covered.  Looking over this, it's so neat to see that students will go from learning how to form cursive letters and learning what a noun is to reading and doing copywork of Robert Louis Stevenson and composing stories, all within the course of one year of instruction.  I'm really excited about this program.
Other members of the Crew were able to review Levels A, B, and C.  Be sure to click the banner below to see what they thought of this language arts program.