Technology is a huge part of our life as a homeschooling family.  CompuScholar, Inc. provided us with their course Digital Savvy to use over the last few weeks, and I have had my oldest two students using it so they can learn computer skills.
Digital Savvy is a course designed for students in grades 6-12.  It covers so many topics!  It gives a great overview, plus assignments and quizzes, about hardware, software, operating systems, basic networking, files and folders, security, online safety, using spreadsheets and word processors, databases, presentation programs, image editing, how to use social media and email, beginning web design, simple programming concepts, and even information on computer-related careers.

For each chapter, there are several lessons.  Each lesson includes a video, the lesson text itself, a classroom discussion with questions (found in the teacher's guide using the teacher login), as well as a lesson quiz for the students to complete to show their knowledge of the topic.
Each chapter ends with an activity that pulls together everything they've learned, and then is complete when they take the chapter quiz.
I had my children work through one lesson a day, three times a week.  It's a slower pace than I was expecting them to go, but this information was definitely new to them and I wanted to be sure that they got it before moving on.  See, they've been using computers for years, but I had never really stopped to talk about the bare bones basic information about them.  Thy weren't aware of different operating systems, or that there might be care instructions for their mouse, or that different applications could be different types with different licenses.
Here is an example of what my daughter put together for one of her activities:

I like how easy it is to go in and see how they are doing on quizzes as well.  As you can see, my daughter is doing quite well on her quizzes so far!  I asked her if they were hard, and she said that they really were all new pieces of information that she really had to think about to ace the quizzes.  She's learned so much in a short period of time!
On the teacher's end of the course, I am able to see more information.  Not only can I see exactly what my students are working with, but I have access to the Teacher Guide and Quiz Answer Key for each lesson.
Digital Savvy is meant to be a full one-year course for middle school and high school students.  I definitely agree with that time frame, and think it could even be stretched a bit longer if your kids are like mine and need a little extra time.
It is available completely online, and there are a few different options on how to use the course.  We were given access to the one-year self-study option.  They also have a teacher-led option where students work with a CompuScholar teacher to complete the course.  With either self-study or teacher-led, you can subscribe monthly or annually for access.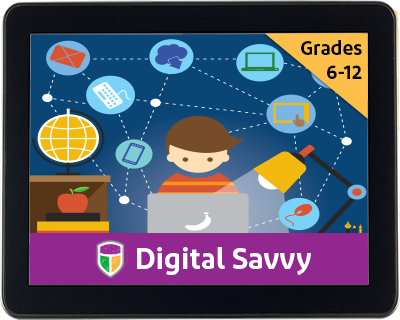 Overall, we're all pleased with Digital Savvy.  It has opened they eyes of my children about the tool that they use so often each day – their computer!  I can't wait to see what they learn as they continue with the course.
My daughter is hoping to purchase a laptop for her birthday, and from what she's learned in this course, she's already very concerned about having enough storage on the new laptop for all of the games she wants to download.  She was telling me that she would add up the storage needed for each of her games to make sure she would have enough with her new device.  Not only is that really smart, but it's something she wouldn't have even considered prior to this CompuScholar class.
Are you interested in how other families like this course, or the Web Design or Java Programming classes?  Click the banner below for more reviews from other Crew members.