Teaching my 5 year old to read is proving to be a bit of a challenge, but my latest review item from The Crafty Classroom is giving me some hope. They sent me 2 different digital, printable products: the Learn to R.E.A.D. Curriculum Notebook and the R.E.A.D. Review Pack.
Learn to R.E.A.D. Curriculum Notebook
This is a digital download.  It is a 36 week curriculum designed to help children to learn to read and write.  It's about 800 pages of materials, so hold on to your hats! 🙂  I chose to print very few pages in color, and did the rest in black and white.  When you download the PDF file, you can see right away which pages you might want to print in color, but you truly could print it all in black and white if you had to.
When you first open the program, you'll see the week by week Curriculum Overview, which includes the week number, the Word Family, the Sight Words, and the Language Arts skills your child will be working on.
As you can see from the screenshot above, this program is meant to be completed just 4 days a week and students will being implementing their Blends cycle every 5th week in the program.
At the beginning, there are some assessment pages to see exactly where your student is coming in at as far as knowledge of the letters and sounds.  There are also Daily Warmup Pages that remind me a lot of when I was in kindergarten and we had circle time.  The student will have the opportunity to discuss the weather, practice writing the time on a clock and in numbers, practice writing their first and last name, and more.  It becomes this routine activity for them, which is great because it helps them to have enough repetition throughout the year that it becomes more like second nature to them to practice those skills.
This curriculum is very hands-on for the kids.  It is not just about having them complete worksheets at all!  There's a bit of an art element in there, with activities like coloring sheets and dipping and dabbing to trace parts of words they are learning with cotton swabs and paint.
There are also games.  My son is LOVING the mazes and dot-to-dots, and the colorful Bingo is a new favorite as well.  I enjoy being able to teach him using fun methods rather than just a bunch of book work.
From the very first week, he started to work on handwriting and beginning reading skills.  His handwriting is a little crazy, so he liked it when I wrote the word correctly NEXT to where he was tracing.  He is working on holding the pencil correctly, so he's still quite shaky with his printing.  I'm just proud of him for trying and so excited that he's not getting worn out by the workload in these lessons.  He looks forward to it and asks to work on his "white notebook" all the time.
I simply printed out enough pages for him to work through in a few weeks, rather than going ahead and printing out everything at once.  This makes it much more approachable for him, and less daunting!  He get really excited to try new activities each day and even wants to work on the weekends.
Something that I really appreciate is that is explicitly walks you through exactly which types of pages to work on which days.  It becomes a nice little routine to complete certain types of pages on Monday, another type on Tuesday, and so on.
I was worried that this would overwhelm my son because he does not have a lot of experience with written work.  His handwriting is not great, and he just doesn't have the fine motor skills to write words perfectly yet.  It was no problem!  His attempts were better than I was expecting and there were enough other activities that he was able to feel confident about his abilities, too.
When we would finish for the day, he would let out a groan because in his mind, he wasn't done yet!  He loved the sorting activities, sequencing, games, and the mini books in the curriculum.  Since those were in black and white, he got to color them as we went over the words.
R.E.A.D. Review Pack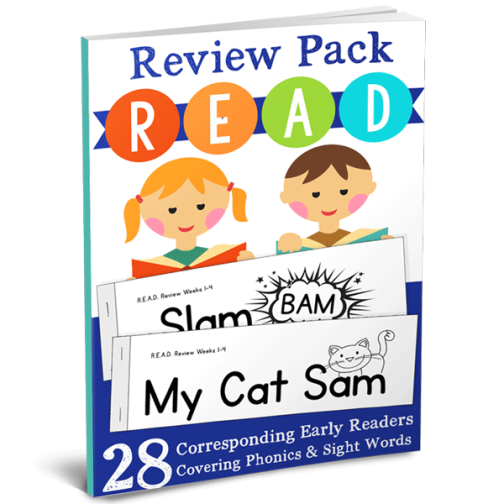 As I mentioned, my 5 year old really enjoyed the little mini books in the main reading curriculum.  The Crafty Classroom also has another product called the R.E.A.D. Review Pack.  It is a PDF of 28 printable early reader books to cut out and staple together.
While they do correspond to the lessons in the main R.E.A.D. curriculum, they are different.  Not only that, but these mini books could definitely be used as a standalone product for anyone teaching their child to read.
If you are using it with the Learn to R.E.A.D. Curriculum Notebook, there is a schedule in the Review Pack that tells you when to use the books.  Basically, you will be using 4 of them every 5 weeks as you use the Curriculum Notebook as a review of the phonics and sight words that were covered in their previous lessons.
If your child likes coloring or personalizing things as they learn, these books are awesome for that. Alternatively, if your student really needs something straight-forward and black and white to get rid of distractions, these fit the bill nicely as is!  The download is 92 pages, and each book includes a page that reminds you which sight words and word families that the early reader booklet covers.
To see how other families used this curriculum with their budding readers, or to find out more about some of their other products, like the
USA Activity Bundle
or
How to Write a Paragraph
, click the banner below: